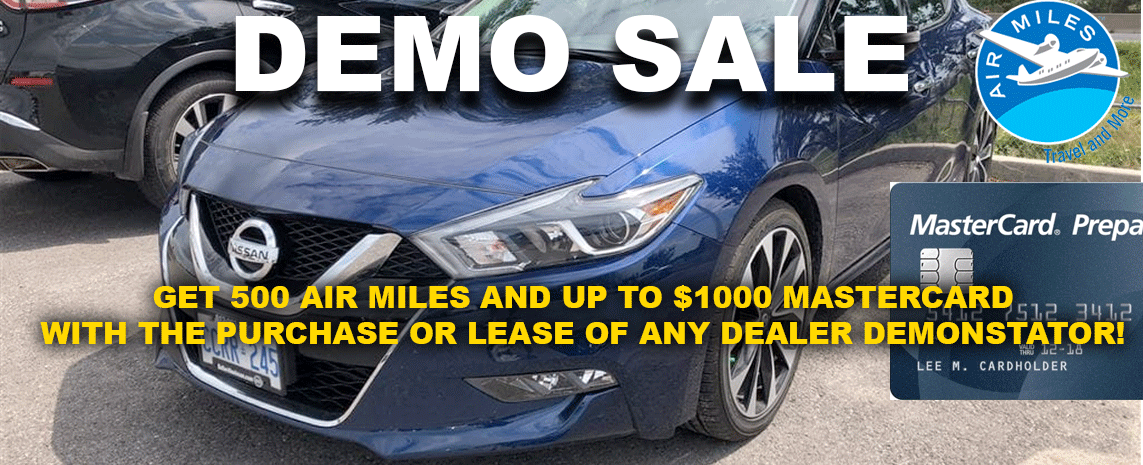 Demonstrator & Christmas Spending $$$$
Thinking of a new car?
Need a few extra dollars for your Christmas gift list?
Here is a great idea for you...Belleville Nissan will give a you a super deal on any one of our 20 or so Demonstrators and throw in a prepaid Credit Card (up to $1,000!!!) just for fun.
Here at Belleville Nissan (28 Millennium Parkway, just North of the 401) some of our staff (including yours truly) have the good fortune to drive new Nissan's called 'demonstrators'. We use these vehicles as special cars that we can loan to our customer's in a pinch or to 'demonstrate' to potential clients.
Once these cars (and CUV's, SUV's, Trucks, etc.) get up to between 9,500 and 10,500 Kilometre's on the odometer we sell them off (at a discount) to the general public.
This is an opportunity for you to move in to the model and trim level you want at a reduced price or payment.
The usual discount on these cars is 10 Cents per Kilometre, about $1,000.
For this special December Demo sale you will still get the 10 cents off per kilometre but - as stated above - an additional $250, $500, $750 or $1,000 in spending $$$$.
Perfect timing, right?
As of this writing we have Muranos, Rogues, a Qashqai or two and a Maxima and a Titan that can be purchased with this once a year discount and Prepaid Credit Card promotion.
These offers are on top of any incentive Nissan Canada might be offering - a bonus on top of a bonus on top of a bonus. As an example a 2018 Maxima is eligible for $7,000 in Standard Rate Finance Cash or 0% financing for as many as 72 months. Add in our special pricing and the Christmas Spending $$ and Holy Cow, what a deal. Just for you!
Don't miss out. Call or visit Belleville Nissan and have a chat with Rohan, Matt, Mike or Trish. Or me, Dave Johnson!
We will do all we can to both earn your business and to help make this Christmas Season a more enjoyable one for you and yours.
Thanks!
Click HERE to see our inventory!